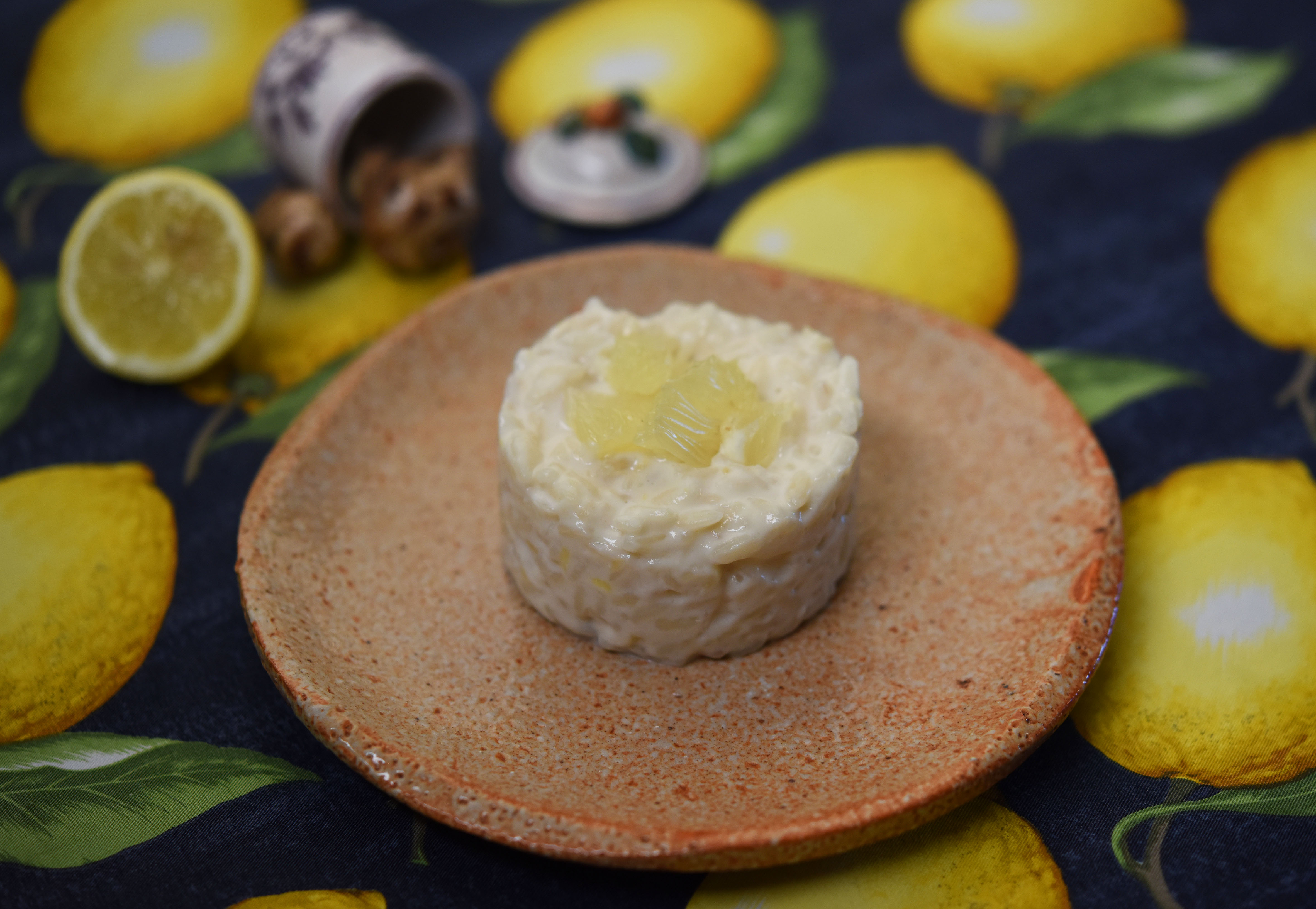 Preparation Time

45

minutes
150

g

22 Months Matured De Tacchi Carnaroli Rice

30

g

Fresh Ginger

The weight refers to ginger that is already peeled

1

Small lemon

1

Big lemon

1/4

White onion

1

clove

garlic

340

ml

Water

340

ml

Milk

grated Parmesan cheese

Just a bit, needed only for enhancing the final creaminess.

Salt and (green) pepper
Preparation Time

45

minutes

150

g

22 Months Matured De Tacchi Carnaroli Rice

30

g

Fresh Ginger

The weight refers to ginger that is already peeled

1

Small lemon

1

Big lemon

1/4

White onion

1

clove

garlic

340

ml

Water

340

ml

Milk

grated Parmesan cheese

Just a bit, needed only for enhancing the final creaminess.

Salt and (green) pepper
Prepare the stock by boiling the water mixed with milk and together with a clove of garlic (cut in half and deprived of the germ). Allow to simmer for a few minutes (the garlic can be removed or kept inside the broth at your preference). Keep the mixture at high temperature.

Peel and chop the onion and the ginger. Grate the peel of the big lemon, then cut its flesh and obtain some small pieces (to be used later for garnishing). Squeeze the juice of the small lemon.

Put a pot (saucepan) over medium / high heat, immediately pour two tablespoons of extra virgin olive oil, add the rice and mix with a wooden spoon; as soon as the oil begins to form bubbles, add 1/4 of the boiling broth, the chopped onion, the ginger and the grated lemon peel. Continue cooking over medium heat, stirring occasionally and adding broth as the rice absorbs it.

Since it is a very delicate risotto, in which the balance between the aromas is the most important thing, during the cooking it is advisable to taste and adjust the balance of flavors with the lemon juice previously squeezed. You can also add a little salt (bearing in mind that the addition of parmesan in the final phase increases the overall salting).

After about 15/20 minutes (depending on the desired consistency of the rice), turn off the heat. Whisk using the grated Parmesan and mix quickly and intensely to obtain the desired creaminess (in this phase some small addition of cold milk might be necessary). Taste and check the degree of salting, and adjust if necessary.

Serve and garnish with the pieces of lemon and, if desired, add some ground green pepper. We recommend to wait 1-2 minutes before serving.